55 inch large capacitive touch screen,G+G structure, mainly used in multimedia terminal, self-service terminal, advertising terminal and other fields. support deep customization. structural parts can be completely customized, Capacitive touch screen iic/usb/rs232 interface optional;
| | |
| --- | --- |
| Uimhir Samhail | HX5501701 V1.0 |
| Branda | Grahowlet |
| Méid | 55.0 orlach |
| Cineál Chomhéadain | USB |
| struchtúr | G + G |
| rialaitheoir IC | WSD |
| Pointí dteagmháil | 10 pointí |
| Trédhearcacht | ≥85% |
| Cruas Dromchla | ≥6H |
| Timpeallacht Oibriúcháin | -20 ℃ ~ 70 ℃, ≤85% RH |
| stóráil Comhshaol | -30 ℃ ~ 80 ℃, ≤85% RH |
| Soláthar Cumhachta Voltage | 5V |
| Toise Imlíne | 1252.70 (W) x736.80 (H) x5.35 (D) mm |
| Achar féachana | 1207.60 (W) x678.40 (H) mm |
| Córais tacaíochta | Windows / Android / Linux srl |
| Bharántas | 1 bhliain |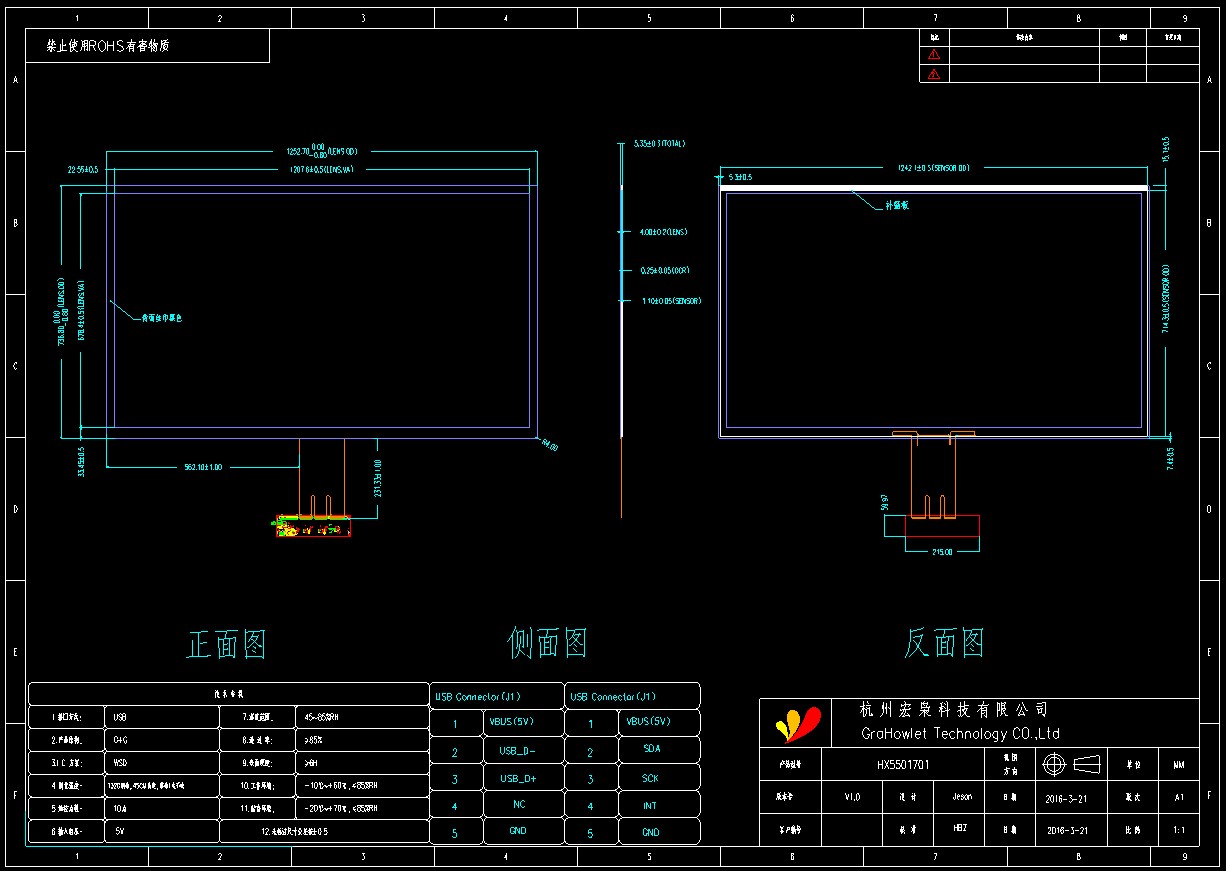 Ár gcomhlacht
Hangzhou Hongxiao Technology is a comprehensive service provider of capacitive touch screen module and TFT LCD display for various industries. In order to meet different requirements of worldwide customers, Hongxiao supply all kinds of product structures such as G + G, G + F (G + F + F ),P + G, etc. and various technical support programs such as Cypress , Atmel, EETI, FocalTech, Goodix etc. according to different application environments. We provides solutions that match all customers' touch screen needs and create products based on multiple technologies. We are committed to supply global customers with first-class products and professional technical services in the touch industries. Our products are of high stability and anti-interference performance and used in various industries with complicated and difficult conditions.
Technical Q & A
Q: According to the survey, the quality reputation of your capacitive touch screen is very good in the whole industrial field. Can you share the experience of quality control?
A: Capacitive touch screen product quality control mainly lies in function and appearance. In function aspect, we have several full checks in the production process, and we will double check out them thoroughly before shipment, so there are few bad feedback from clients on function. In addition, the most important aspect of appearance is dust-free room in production in environmental control, as long as the environmental control is good, the problem of basic fit foreign matter can be solved very well, We have professional quality personnel to control the remaining minor scratches and the grasp of structural parameters. We have a complete quality control system. Once we have confirmed with customer about their quality standards, mass production can be well controlled. That's why we have a good reputation for quality.
Q: Many industrial customers used resistive touch screens or untouched ones before, for the upgrade of projects, they may be the first time to deal with capacitive screens and don't have much understanding of the adjustment and functional application of capacitive screens, how did you serve this kind of customers in the early stage?
A: There are some customers who have just get involved in the capacitive screen products. In view of this situation, we usually cooperate in two situations:
First, if the project schedule is rather tense, we usually provide drive-free solutions directly. We can convert the IIC interface of the capacitive screen into the USB interface for direct application, we can also convert the display screen into various interface like VGA or HDMI for direct application, so that customers can save early time in early stage of development;
Second, if the project schedule is relatively abundant, we usually provide professional debugging data to the customer technicians, and then the specialized technicians in our company wil assist the customer in technical debugging. We have a professional technical team to do a good job of technical services in this area.