7 inch IIC/USB CTP touch screen panel
Product Detail
Product Tags
The 7 inch IIC/USB CTP touch screen panel uses ilitek touch controller ic, normally for industrial applications, G+G structure. Strong interference performance, support operation with water, gloves, 10mm tempered glass on the top of the cover glass. Major applications in outdoor portable terminal, industrial, automotive, smart home appliances and other fields. structure and parameters can be customized accordingly.
This 7 inch CTP touch screen panel is our standard product. It has strong anti-jamming performance. It can match tft lcd display with 800x480/1024x600 resolution . We have TN and IPS material display screens to choose from. Both general brightness and high-brightness schemes are available. Air-bonding and optical-bonding process can be selected according to the actual needs of customer projects. 

| | |
| --- | --- |
| Model Number | HX0701854 |
| Brand | Grahowlet |
| Size | 7.0 inch |
| Interface Type | IIC/USB |
| Structure | G+G |
| Controller IC | ILITEK |
| Touch Points | 10 points |
| Transparency | ≥85% |
| Surface Hardness | ≥6H |
| Operating Environment | -20℃ ~ 70℃,≤85% RH |
| Storage Environment | -30℃ ~ 80℃,≤85% RH |
| Power Supply Voltage | 3.3V(IIC)/5.0V(USB) |
| Outline Dimension | 174.80(W)x118.80(H)x1.60(D) mm |
| Viewing Area | 154.21(W)x86.92(H) mm |
| Support Systems | Windows/Android/Linux etc. |
| Warranty | 1 year |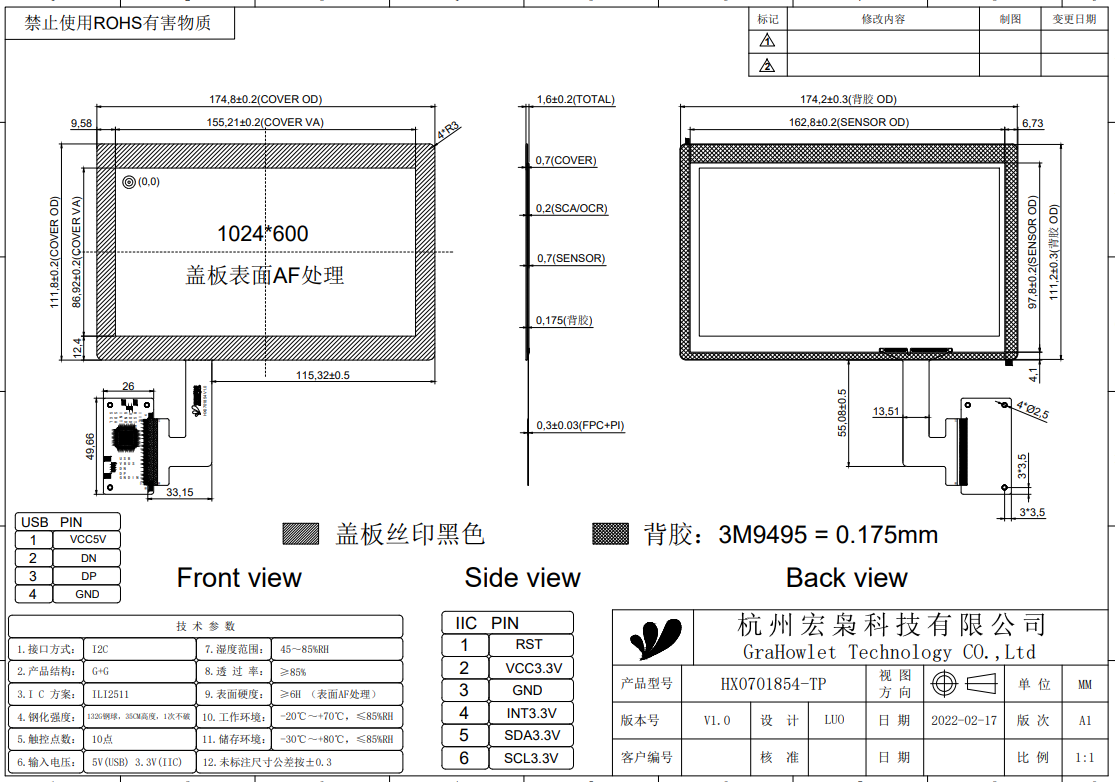 Our Company
Hangzhou Hongxiao(Grahowlet) Technology is a comprehensive service provider of capacitive touch screen module and TFT LCD display for various industries. In order to meet different requirements of worldwide customers, Hongxiao supply all kinds of product structures such
as G + G, G + F (G + F + F ),P + G, etc. and various technical support programs such as Cypress , Atmel, EETI, FocalTech, Goodix etc. according to different application environments. We provides solutions that match all customers' touch screen needs and create products based on multiple technologies. We are committed to supply global customers with first-class products and professional technical services in the touch industries. Our products are of high stability and anti-interference performance and used in various industries with complicated and difficult conditions.

FAQ
Q: What can Grahowlet technology do? Can you briefly introduce it?
A: The capacitive screen solution includes: Cypress , Goodix, Focal tech, ATMEL, EETI, ILI, etc. The cover lens, sensor and FPC of the touch can be customized in depth according to the actual needs of customers;
The display solution includes: the current mainstream display glass panel, and we can customize the brightness of the display screen, FPC shape, interface definition, driver IC solution according to the actual needs of customers, etc.
Q: Can you tell us about your company's main products, process and size range?
A: Our main products include: special glass cover, capacitive touch screen, LCD screen, capacitive touch screen module, supporting driving board;
Technical process: G+G structure, P+G structure and GFF structure, including flexible touch screen,
Bonding process: Air bonding & Optical bonding.
Size range from 1.3 inch to 65 inch, and there are no projects in batch production with size above 65 inch at the moment.
Q: What are the precautions for the application of capacitive touch screen made of PMMA cover?
A: As for the cover of capacitive touch screen made by PMMA material, we must consider the material of sensor, the impact of high and low temperature shock and warpage. As for the specific details, we have some mature application cases. Customers can contact with our technicians for the detailed solution and parameters according to the actual needs of specific products.