7 inch capacitive touch panel with Atmel touch controller ic
Product Detail
Product Tags
The 7 inch capacitive touch panel with Atmel touch controller ic can support glove function, water-based function and thick cover function, mainly used in outdoor equipment, pure industrial equipment, shipping and other fields, can support depth customization, including structural parts and surface special treatment;
The 7 inch capacitive touch panel product is a product launched by our company for customers in the industrial field. It can support some special functions and has excellent anti-interference performance. It has black screen printing around and the interface is IIC. It can also directly export the USB interface through the IIC----USB board to achieve free drive, saving the early development cycle.
| | |
| --- | --- |
| Model Number | HX0701840 |
| Brand | Grahowlet |
| Size | 7.0 inch |
| Interface Type | IIC/USB |
| Structure | G+G |
| Controller IC | MXT641T-AT |
| Touch Points | 10 points |
| Transparency | ≥85% |
| Surface Hardness | ≥6H |
| Operating Environment | -30℃ ~ 80℃,≤85% RH |
| Storage Environment | -30℃ ~ 80℃,≤85% RH |
| Power Supply Voltage | 2.8V ~ 3.3V |
| Outline Dimension | 183.60(W)x127.84(H)x2.70(D) mm |
| Viewing Area | 155.21(W)x86.92(H) mm |
| Support Systems | Windows/Android/Linux etc. |
| Warranty | 1 year |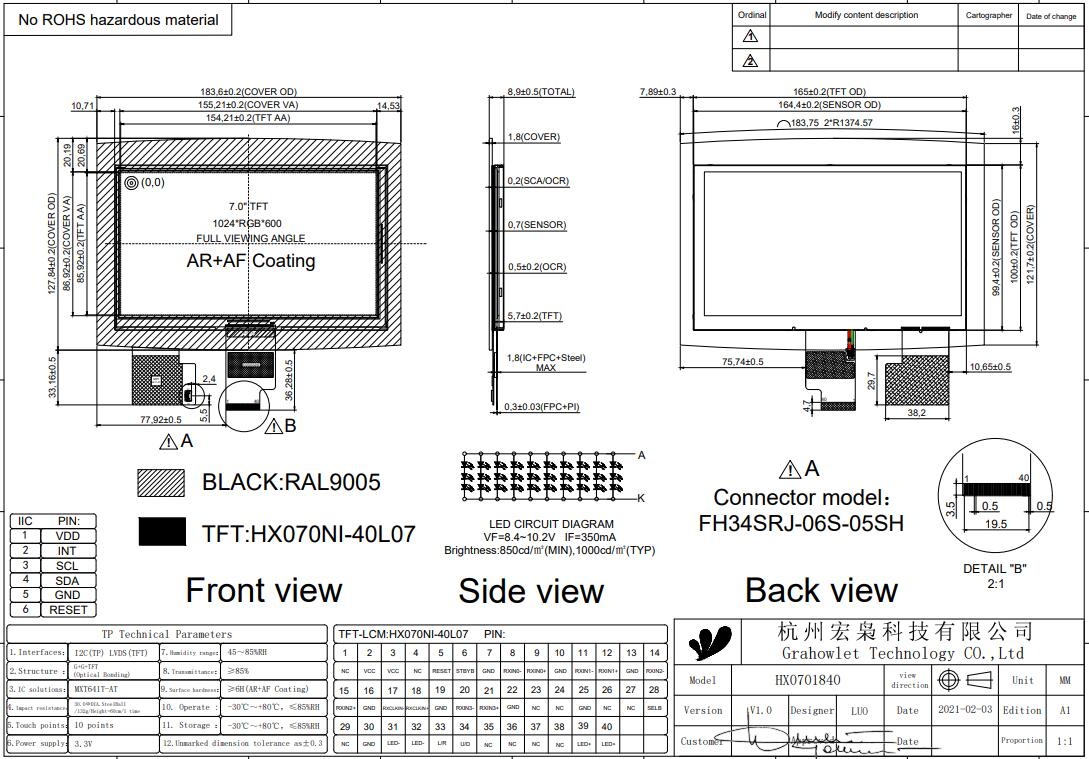 FAQ
Q: What can Grahowlet technology do? Can you briefly introduce it?
A: The capacitive screen solution includes: Cypress , Goodix, Focal tech, ATMEL, EETI, ILI, etc. The cover lens, sensor and FPC of the touch can be customized in depth according to the actual needs of customers;
The display solution includes: the current mainstream display glass panel, and we can customize the brightness of the display screen, FPC shape, interface definition, driver IC solution according to the actual needs of customers, etc.
Q: Can you tell us about your company's main products, process and size range?
A: Our main products include: special glass cover, capacitive touch screen, LCD screen, capacitive touch screen module, supporting driving board;
Technical process: G+G structure, P+G structure and GFF structure, including flexible touch screen,
Bonding process: Air bonding & Optical bonding.
Size range from 1.3 inch to 65 inch, and there are no projects in batch production with size above 65 inch at the moment.
Q:Can you provide OEM service?
A:yes, we can provide both OEM and ODM service,can customize products according to the drawings you supply.
Q: Is your company a real manufacturer?
A:Our company is a comprehensive service provider of capacitive touch screen in developing and manufacturing for many industries, we have our long-term business factories but the solution design & products developing and software debugging are all completed by ourselves. you are warmly welcomed to visit our factory anytime.