5 capacitive touch display for raspberry pi mipi dsi interface 720P lcd anzeige module
Product Detail
Product Tags
The 5 capacitive touch display for raspberry pi mipi dsi interface 720p lcd anzeige module is mostly used in consumer electronics, G+F+F structure, The main applications are in intelligent security, medical electronics, financial POS, portable mobile terminals and other fields. structural parts and special treatment of the surface can be customized. resolution, brightness and other parameters can be done according to the actual situation;
The 5 capacitive touch display Module is a biased towards commercial product.The display screen is a vertical screen design with a resolution of 720*1280,with MIPI interface ,and the capacitive touch panel with cypress touch controller ic can support some special functions and has excellent anti-interference performance.We can provide the driver board to use with HDMI and USB interface. It realizes the drive-free function, plug and play. At present, it is mainly used in medical electronics, face recognition and other fields.
Product Description
| | |
| --- | --- |
| Model Number | HX0501708 |
| Brand | Grahowlet |
| Size | 5.0 inch |
| Operating Temperature | -10℃ ~ 60℃ |
| Storage Temperature | -20℃ ~ 70℃ |
| Outline Dimension | 70.00(W)x132.50(H)x3.83(D) mm  |
| Viewing Area | 62.70(W)x111.00(H) mm  |
| Active Area | 62.10(W)x110.40(H) mm  |
| Support Systems | Windows/Android/Linux etc. |
| Warranty | 1 year |
| Interface Type | IIC/USB |
| Structure | Glass+Film+Film |
| Controller IC | Cypress |
| Touch Points | 10 points |
| Transparency | ≥85% |
| Surface Hardness | ≥6H |
| PCAP Power Supply Voltage | 2.8V ~ 3.3V |
| Resolution | 720x1280 |
| Interface Type | MIPI/HDMI |
| Luminance | 500 cd/m² |
| Viewing Angle | ALL |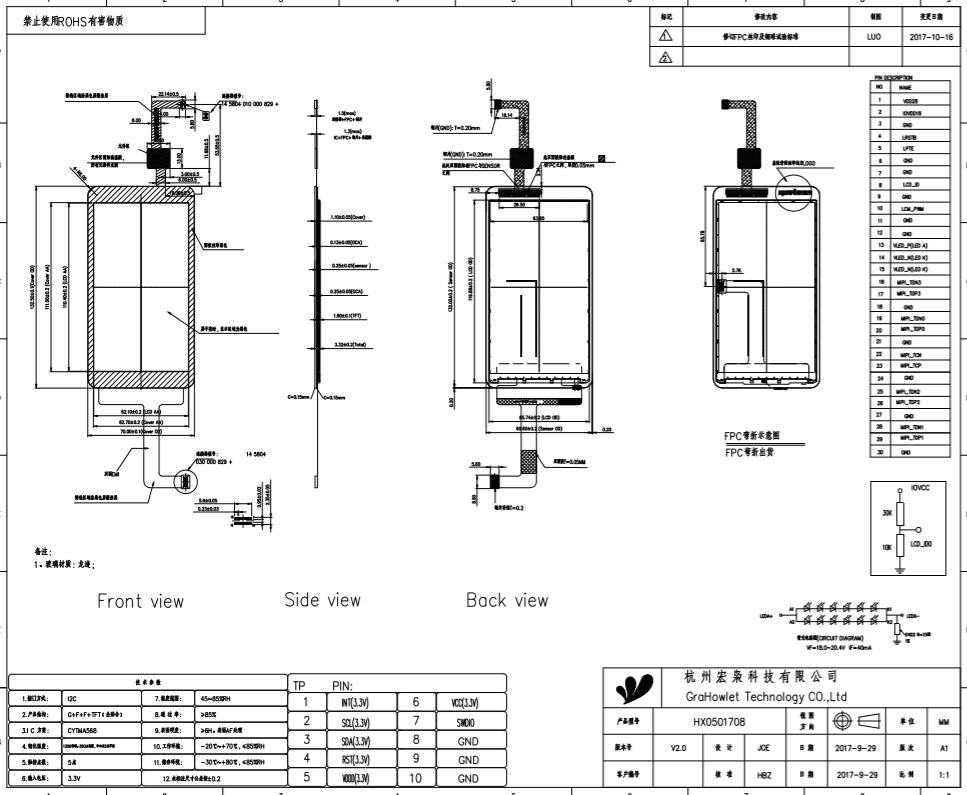 FAQ
Q: Is there any suggestion regarding the capacitive touch screen module solutoin directly used by raspberry pi and orange pi?
A: We have some mature projects cases and the best way is to connect the touch screen directly through USB interface to the Raspberry Pi or the orange Pi, and the display can be directly connected through HDMI interface, this way the whole solution can be implemented through plug and play.
Large size touch screen will be designed directly with USB interface, small size is general designed with IIC interface, so we will do is to provide the board which changes the IIC into USB. however, customers need to contact our technicians to check the configuration and software system.
For display, we can provide RGB to HDMI, LVDS to HDMI, MPI to HDMI, EDP to HDMI and other driver boards to realize the connection with Raspberry Pi and orange pi;
Q:What is your company's main products, process and size range?
A: Our main products include: special glass cover, capacitive touch screen, LCD screen, capacitive touch screen module, supporting driving board;
Technical process: G+G structure, P+G structure and GFF structure, including flexible touch screen,
Bonding process: Air bonding & Optical bonding.
Size range from 1.3 inch to 65 inch, and there are no projects in batch production with size above 65 inch at the moment.
Q: What are the precautions for the application of capacitive touch screen made of PMMA cover?
A: As for the cover of capacitive touch screen made by PMMA material, we must consider the material of sensor, the impact of high and low temperature shock and warpage. As for the specific details, we have some mature application cases. Customers can contact with our technicians for the detailed solution and parameters according to the actual needs of specific products.
Previous:
7 inch 1024×600 capacitive touch screen hdmi ips lcd display for raspberry pi lcd display modules