32 inch 10 point touch screen
Product Detail
Product Tags
      32 inch 10 point touch screen with ILI2312 controller IC, can support thick gloves and thick tempered glass and thick PC function, Glass + Glass structure,mainly used in self-service terminal, multimedia terminal, outdoor advertising and other equipment, support deep customization including structural parts and surface treatment AG AR AF and other special effects. Capacitive touch screen iic/usb/rs232 interface optional;
PCAP(projected capacitive)
Model Number:HX3201701 V1.0
Size:32.0 inch
Operating Temperature:-20℃ ~ 70℃,≤85% RH
Outline Dimension:781.54(W)x476.14(H)x3.3(D) mm
Viewing Area:698.7(W)x393.3(H) mm
Support Systems:Windows/Android/Linux etc.
Light Transmittance:≥85%
Surface Hardness:≥6H
Interface Type:USB
Controller IC:ILITEK
Touch Points:1-10 Points
Power Supply Voltage:5V
Resolution:1920x1080
Interface Type:LVDS
Luminance:350 cd/m²
Viewing Angle:ALL
Warranty:1 year
Custom Service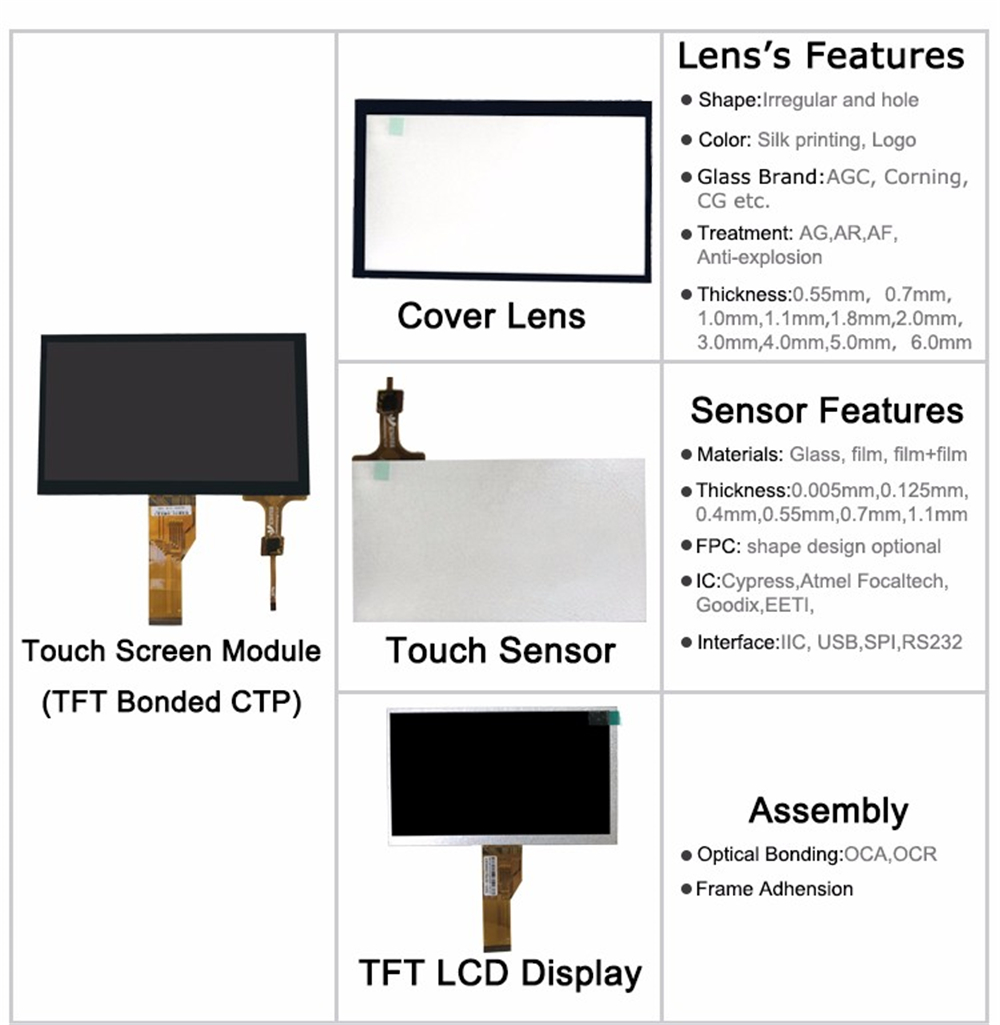 ■ Programme evaluation : 1 to 2 working days
■ Drawings:2 to 3 working days
■ Customized products:3 to 4 weeks(after drawings confirmed)
■ Pruduction delivery :3 to 5 weeks
■ Capacity: 100K per month(10.1 inches as a reference)
■ Process capability: G+G, G+F+F, shielding process, overall module joint process(Optical Bonding)(maximum 65 )Cover glass surface treatment AR, AG, AF
■ Technical support :We have more than 10 years of experience in touch screen industry, with a professional technical team, can always provide technical support for you.
■ Stable supply chain for at least 3~5 years guarantee
■ One year warranty time for all of our product
Cover Shape
Support contour cutting including round, curve, polygons or other irregular shape----meet customers' different requirements.
Optical effect
Cover glass can be treated with AG, AR, AF and other special optical process to meet application environment of outdoor use & sunlight readable.
Bonding
Optical bonding and air bonding optional. Optical bonding will Greatly improve the impact resistance, waterproof, dustproof and so on.
Technical Q & A
Q: About the capacitive screen we are using now, the power supply interference problem is very serious. What should we do to eliminate the interference of the power supply? Apart from scanning frequency to avoid the noise frequency of the power supply, improve the signal-to-noise ratio of the screen? Is there any other way?
A: Seeing from all current cases, power supply interference is mainly concentrated in large-size TP (7inch or above), and we have the following solutions:
(1) Choose a quality power supply. This is very important and the most effective and fundamental way to solve power disturbances;
(2) Frequency hopping. Use the spectrum analyzer to find the area where the common mode interference strength of the adapter is small, and then set the TX scan frequency to this area through software setting, which can effectively control the interference. If there is interference in the full frequency band, it is recommended to abandon the adapter;
(3) Improve the signal to noise ratio. In the initial design of TP (7.0inch or above), consider using the low-impedance surface-rent material for the RX signal channel and using the design of the double-sided trace. Try to control all the channel resistances within 10K, which can effectively control the power supply interference. ;
(4) It is also possible to change the charger, increase the algorithm filtering, and adopt Cypress, EETI, ILI schemes with strong anti-interference performance.
---
Previous:
43 inch touch screen mirror
---
Write your message here and send it to us