12.1 inch usb capacitive touch screen panel
Product Detail
Product Tags
This 12.1 inch usb capacitive touch screen panel with ilitek touch controller ic can support operation with thick gloves ,thick tempered glass and thick PC on the top.G+G structure, mainly used in medical electronics, portable mobile terminals, intelligent security, Internet of things terminals and other fields, support customization of structure and surface treatment. interface iic/usb/rs232 optional;
This 12.1 inch usb capacitive touch screen panel product belongs to our standard USB interface product, compatible with various common operation systems, black silk screen printing around, direct drive-free, can save some pre-development time, It is more suitable for the whole machine products mounted by flat assemble way. It has a long sustainable supply time, GG structure design and stable performance.
| | |
| --- | --- |
| Model Number | HX1211803 |
| Brand | Grahowlet |
| Size | 12.1 inch |
| Interface Type | USB/IIC |
| Structure | G+G |
| Controller IC | ILITEK |
| Touch Points | 10 points |
| Transparency | ≥85% |
| Surface Hardness | ≥6H |
| Operating Environment | -20℃ ~ 70℃,≤85% RH |
| Storage Environment | -30℃ ~ 80℃,≤85% RH |
| Power Supply Voltage | IIC-3.3V/USB-5.0V |
| Outline Dimension | 266.00(W)x204.00(H)x3.45(D) mm |
| Viewing Area | 246.76W)x185.32(H) mm |
| Support Systems | Windows/Android/Linux etc. |
| Warranty | 1 year |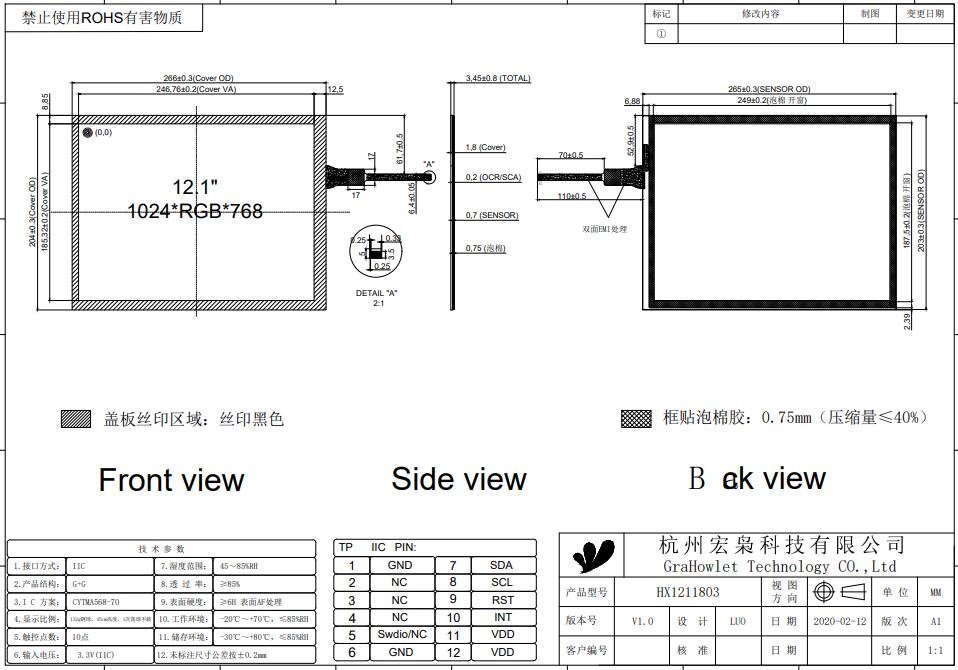 Technical Q&A
Q: What can Grahowlet technology do? Can you briefly introduce it?
A: The capacitive screen solution includes: Cypress , Goodix, Focal tech, ATMEL, EETI, ILI, etc. The cover lens, sensor and FPC of the touch can be customized in depth according to the actual needs of customers;
The display solution includes: the current mainstream display glass panel, and we can customize the brightness of the display screen, FPC shape, interface definition, driver IC solution according to the actual needs of customers, etc.
Q: Can you tell us about your company's main products, process and size range?
A: Our main products include: special glass cover, capacitive touch screen, LCD screen, capacitive touch screen module, supporting driving board;
Technical process: G+G structure, P+G structure and GFF structure, including flexible touch screen,
Bonding process: Air bonding & Optical bonding.
Size range from 1.3 inch to 65 inch, and there are no projects in batch production with size above 65 inch at the moment.
Q: There are some projects that require the working temperature range of the capacitive screen module to reach very wide, such as - 45 to + 90. Do you have any experience and suggestions for this kind of work?
A: If the wide temperature requirement of the module is more stringent, it needs to be analyzed from two aspects:
first, if the capacitive touch screen needs to reach this temperature level, the ordinary sensor production technology can't succeed, and we needs to take special ways to route the sensor, which can be specifically discussed with our technicians;
Second, if the display screen needs to reach this temperature level, for the small size, we needs to use OLED (AMOLED) material, for the large size, we needs to heat and radiate the display screen, the specific details can be confirmed with our technician.
---
Previous:
1.5 inch pcap touch screen panel
---
Write your message here and send it to us