12.1 inch pcap touch screen
Product Detail
Product Tags
      The 12.1 inch pcap touch screen with ILITEK touch controller ic,  support operation with thick gloves ,thick tempered glass and thick PC on the top.Industrial applications, G+G structure, mainly used in medical electronics, intelligent security, automotive, portable financial terminals and other fields. Customization service available. structural parts can be completely customized, Surface treatment AG AR AF can be customized according to actual needs; interface iic/usb/rs232 Optional.
| | |
| --- | --- |
| Model Number | HX1211701 V1.0 |
| Brand | Grahowlet |
| Size | 12.1 inch |
| Interface Type | IIC/USB |
| Structure | G+G |
| Controller IC | ILITEK |
| Touch Points | 10 points |
| Transparency | ≥85% |
| Surface Hardness | ≥6H |
| Operating Environment | -20℃ ~ 70℃,≤85% RH |
| Storage Environment | -30℃ ~ 80℃,≤85% RH |
| Power Supply Voltage | 5V |
| Module Size | 197.00(W)x265.76(H)x2.40(D) mm |
| Viewing Area | 185.32(W)x246.76(H) mm |
| Support Systems | Windows/Android/Linux etc. |
| Warranty | 1 year |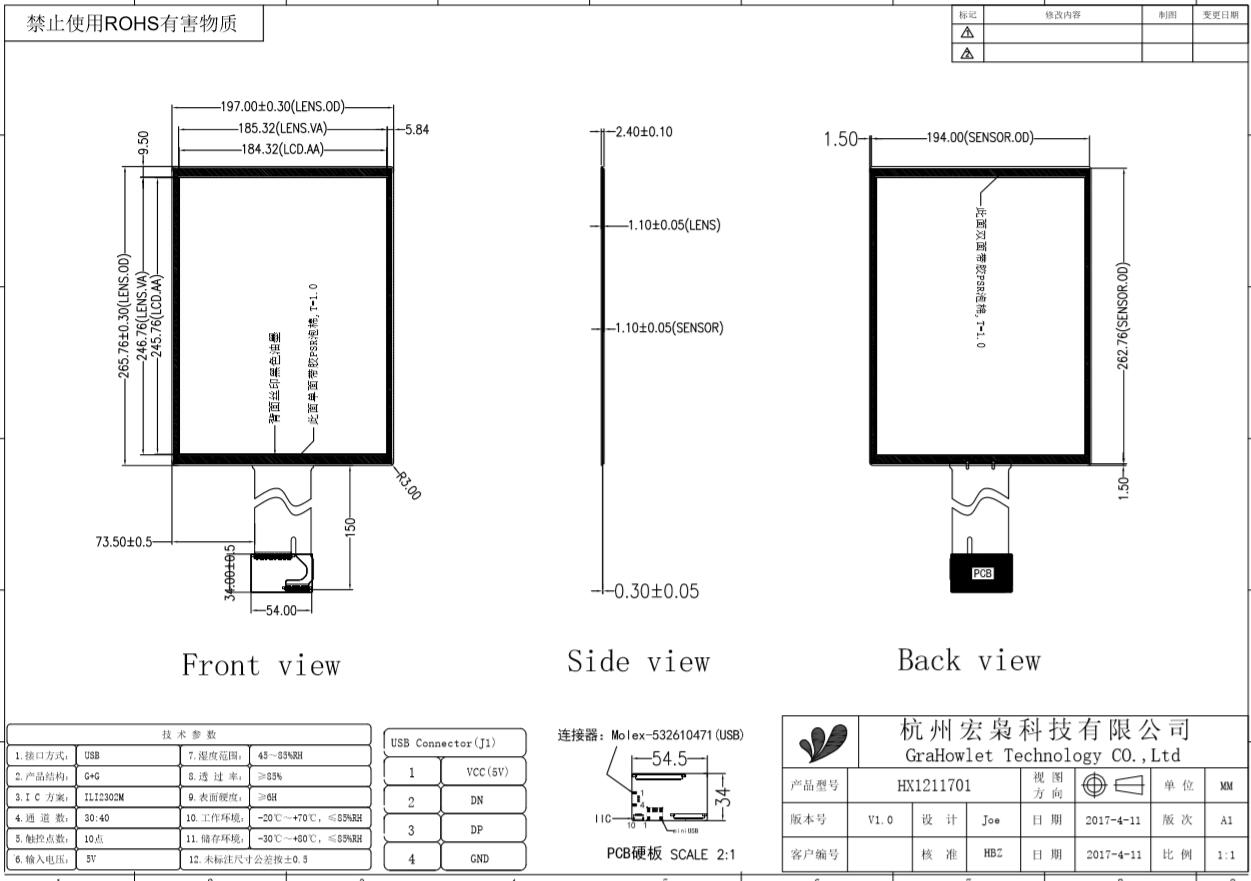 Technical Q&A
Q: There are some projects that require the working temperature range of the capacitive screen module to reach very wide, such as - 45 to + 90. Do you have any experience and suggestions for this kind of work?
A: If the wide temperature requirement of the module is more stringent, it needs to be analyzed from two aspects:
first, if the capacitive touch screen needs to reach this temperature level, the ordinary sensor production technology can't succeed, and we needs to take special ways to route the sensor, which can be specifically discussed with our technicians;
Second, if the display screen needs to reach this temperature level, for the small size, we needs to use OLED (AMOLED) material, for the large size, we needs to heat and radiate the display screen, the specific details can be confirmed with our technician.
Q: Capacitive screens used in industry often need to support some special functions because of industry characteristics, since you mainly make industrial capacitive touch screens, do you have any technical accumulation in this respect?
A: Yes, you're right. There are many special functions for industrial capacitive screens, for example, for outdoor applications or some products with water in the environment, capacitive touch screens themselves need to support water touch, even for marine equipment applications, they need to support sea touch and 5% saline water touch.
In some pure industrial application environments, some workers will often operate with gloves, and the environment may also have organic oil, so the capacitive touch screen itself needs to support glove operation and anti-oil pollution function;
And then, for example, some outdoor products or some special field application products need explosion-proof and shock-proof, The surface of the capacitive touch screen will be protected by thick tempered glass, so it needs the capacitive screen itself to support the operation function with thick cover.
Generally, at present, we have a certain technical accumulation in the aspects of capacitive screen supporting water, glove operation and oil resistant function, thick cover and so on. The specific details can be discussed with our technicians based on the actual situation.
---
Previous:
10.4 inch magic touch screen
---
Write your message here and send it to us