10.1 inch 1024×600 outdoor capacitive touch lcd display
Product Detail
Product Tags
The 10.1 inch 1024x600 outdoor capacitive touch lcd display with cypress touch controller ic can support operation with gloves, water , and working well with 10mm thick tempered glass or thick PC on top of the cover glass, mainly used in medical, industrial, security, home appliances and other fields. Deep custom service available.
This 10.1 inch 1024x600 outdoor capacitive touch lcd display module belongs to the standard module launched by our company. The display resolution is 1024*600, LVDS interface, , with a full view angle, which can match the VGA or HDMI interface driver board,industrial wide temperature, It has excellent anti-interference performance.
| | |
| --- | --- |
| Model Number | HX1011833 |
| Brand | Grahowlet |
| Size | 10.1 inch |
| Operating Temperature | -20℃ ~ 70℃ |
| Storage Temperature | -30℃ ~ 80℃ |
| Outline Dimension | 258.20(W)x161.50(H)x7.19(D) mm |
| Viewing Area | 223.32(W)x125.88(H) mm  |
| Active Area | 222.72(W)x125.28(H) mm  |
| Support Systems | Windows/Android/Linux etc. |
| Warranty | 1 year |
| Interface Type | IIC/USB |
| Structure | G+G |
| Controller IC | Cypress |
| Touch Points | 10 points |
| Transparency | ≥85% |
| Surface Hardness | ≥6H |
| Power Supply Voltage | 2.8V ~ 3.3V |
| Resolution | 1024x600 |
| Interface Type | LVDS |
| Luminance | 1000 cd/m² |
| Viewing Angle | ALL |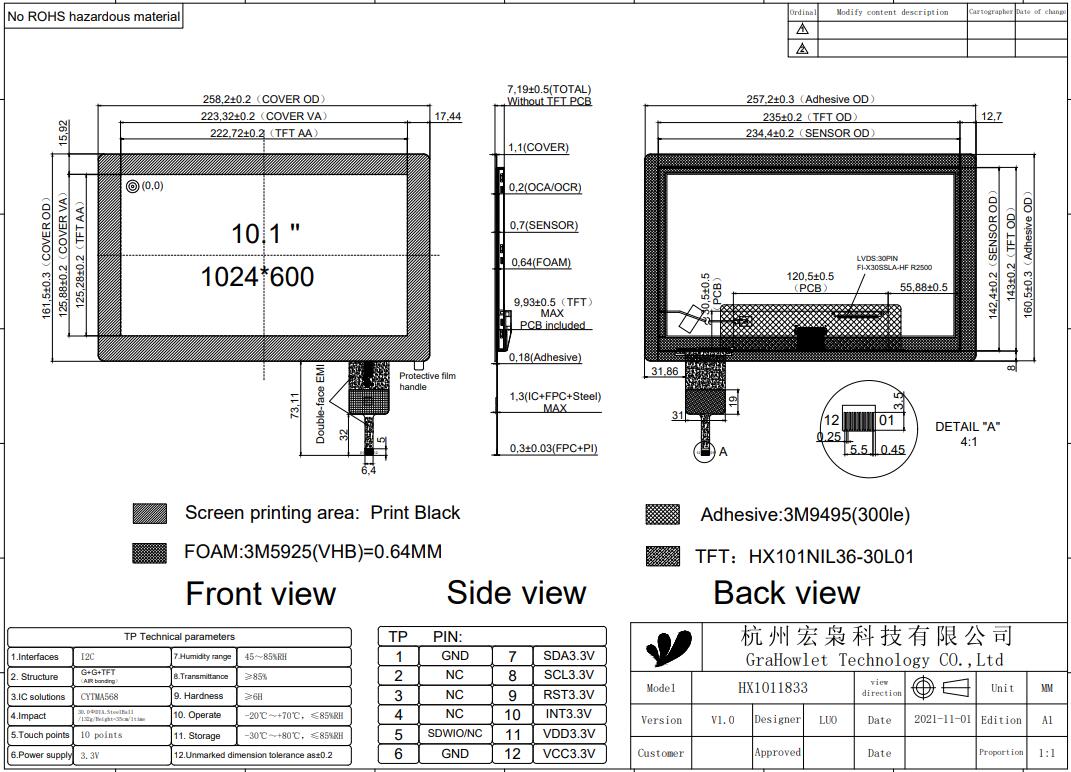 FAQ
Q: Under what circumstances will the optical bonding touch screen module solution be considered?
A: 1. If the customer has higher requirements for the overall beauty of the product, they can consider the optical bonding because the whole black effect of the whole module is very good after the optical bonding;
2. If the customer's product itself has high requirements such as anti-shock effect and impact resistance in its working environment, the optical bonding solution can be considered;
3. If the customer's product is used outdoors and have certain requirements on the visual effect of the Sun and the stability of the hot & cold shocks and the overall structure, the optical bonding plan needs to be considered;
Q: For the product with outdoor application environment , which needs to meet the requirement of sunlight readable , What should be paid attention to when selecting models?
A: 1. It is necessary to consider the wide temperature working temperature of the capacitive touch screen and the display screen, at least -20 to 70 degrees should be met, the final decision should be made depending on the actual product application environment;
2. If the power consumption is important and the cost is not so strictly limited, the best choice is semi-transparent display screen. If the cost and size is important, the display screen must meet the requirements of highlighting;
3. The capacitive touch screen cover glass can be done with AG or AR + AF. As for whether the display and touch should be optical bonded, it is not a "must" but a bonus.
---
---
Write your message here and send it to us